Thermal Mass Flow Meter
The thermal gas mass flow meter is an instrument to measure the gas flow by the principle of thermal diffusion. The sensor consists of two reference thermal resistors (RTD). One is RH, a speed sensor, and the other is RMG, a temperature sensor that measures changes in gas temperature. ATO manufacturer provides 2 types of thermal mass flow meter: insertion thermal mass flow meter and flange type.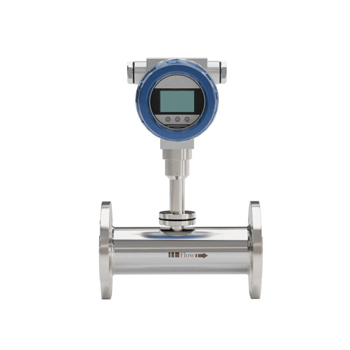 Features:
Easy installation, simple maintenance, two-way detection and anti-vibration. Same as insertion electromagnetic flow meter.
Flow and temperature detection, switch display. Large nozzle and small diameter, can do leakage detection.
Using proprietary technology "dual balance structure" package sensor.
Proprietary high humidity, high temperature algorithm, medium temperature up to 500 ℃.
Specification:
Model
ATO-QH-201903665
Structural Style
plug in type
flange type
Accuracy
±2-2.5%
±1.5%
Working Pressure
2.5 Mpa
4.0 Mpa
Medium of Measurement
gases other than acetylene
Velocity Range
0.1-120 Nm/s
Working Temperature
sensor 40 ℃~220 ℃, converter 20 ℃~45 ℃
Power Supply
DC 24V, AC 220V≤18W
Response Speed
1s
Output Signal
4-20 mA, RS-485, HART protocol
Alarm
1-2 relay normally open contact, 10A/220V/AC, 5A/30V/DC
Display
4 row LCD display
Protection Level
IP65
Sensor Material
stainless steel
Dimension (Unit: mm):
| | | | | | |
| --- | --- | --- | --- | --- | --- |
| Nominal Dia. | Flange Outer Dia. | Center Hole | Bolt Hole | Flange Thickness | Installation Length |
| DN | D | k | n*L | C | L |
| 15 | 95 | 65 | 4x14 | 14 | 280 |
| 20 | 102 | 75 | 4x14 | 16 | 280 |
| 25 | 115 | 85 | 4x14 | 16 | 280 |
| 32 | 140 | 100 | 4x18 | 18 | 350 |
| 40 | 150 | 110 | 4x18 | 18 | 350 |
| 50 | 165 | 125 | 4x18 | 20 | 350 |
| 65 | 185 | 145 | 4x18 | 20 | 400 |
| 80 | 200 | 160 | 8x18 | 20 | 400 |
| 100 | 220 | 180 | 8x18 | 22 | 500 |
Related Products