Liquid Turbine Flow Meter
Liquid turbine flow meter is a kind of precision flow measurement instrument. It can be used to measure the flow rate and total amount of liquid together with the corresponding flow calculation instrument. ATO provides liquid turbine flow meter with optional 4-20 mA signal output, RS485 also available. Liquid turbine meters often used in petroleum, chemical and other industries. Both wholesale and bulk, ATO will be the most cost-effective choice in China.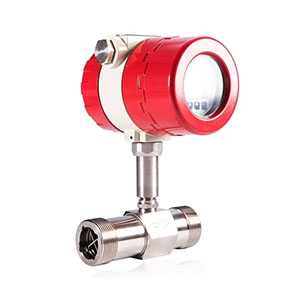 Features:
Compact and light structure, easy installation and maintenance, large circulation capacity.

High accuracy, generally up to ±1%R, ±0.5%R, high precision up to ±0.2%R. Magnetic flow meter also provides accurate detection
With three point correction of instrument coefficient, intelligent compensation for nonlinearity of instrument coefficient, and can be corrected on site.
This type of flow meters suitable for high pressure measurement, the instrument body does not need to open the hole, easy to make high pressure instrument.
Specification:
Model
ATO-LWGY
Measuring Medium
liquid (water, liquefied petroleum gas, refined oil, light crude oil, organic liquid, inorganic liquid and other liquid without fiber, particulate impurities)
Medium Viscosity
< 5 × 10-6 m2/s (for the liquid with more than 5 × 10-6 m2/s, the flowmeter needs to be calibrated before using.)
Nominal Diameter *
DN4 ~ DN200 mm
Measurement Accuracy
1.0%R (For higher accuracy 0.5%R / 0.2%R, please contact us.)
Pressure Range
6.3 MPa, 2.5 MPa, 1.6 MPa
Medium Temperature
-20 ℃ ~ +120 ℃ (stainless steel measuring tube)
Environmental Conditions
Ambient temperature: -20 ℃ ~ +60 ℃
Relative humidity: 5% to 95%
Atmospheric pressure: 86 kPa ~ 106 kPa
Power Supply
24V DC
Output Signal *
three-wire pulse output, or two-wire 4-20 mA output (Optional)
Display *
LCD screen, can display instantaneous flow / accumulative flow (Optional)
Connection
Threaded connection (DN4~DN40)
Flange connection (DN50~DN200)
Communication *
RS485 (Optional)
Protection Class
IP65 (IP68 can be customized)
Dimension: (Unit: mm)

| | | | | | |
| --- | --- | --- | --- | --- | --- |
| Size (mm) | L (mm) | G (inch) | K (mm) | d (mm) | n (number of holes) |
| DN4 | 225 | G1/2" | — | — | — |
| DN6 | 225 | G1/2" | — | — | — |
| DN10 | 345 | G1/2" | — | — | — |
| DN15 | 75 | G1" | Ф65 | Ф14 | 4 |
| DN20 | 80 | G1" | Ф75 | Ф14 | 4 |
| DN25 | 100 | G5/4" | Ф85 | Ф14 | 4 |
| DN32 | 140 | G2" | Ф100 | Ф14 | 4 |
| DN40 | 140 | G2" | Ф110 | Ф18 | 4 |
| DN50 | 150 | G5/2" | Ф125 | Ф18 | 4 |
| DN65 | 170 | — | Ф145 | Ф18 | 4 |
| DN80 | 200 | — | Ф160 | Ф18 | 8 |
| DN100 | 220 | — | Ф180 | Ф18 | 8 |
| DN125 | 250 | — | Ф210 | Ф18 | 8 |
| DN150 | 300 | — | Ф240 | Ф22 | 8 |
| DN200 | 360 | — | Ф295 | Ф22 | 12 |
Related Products